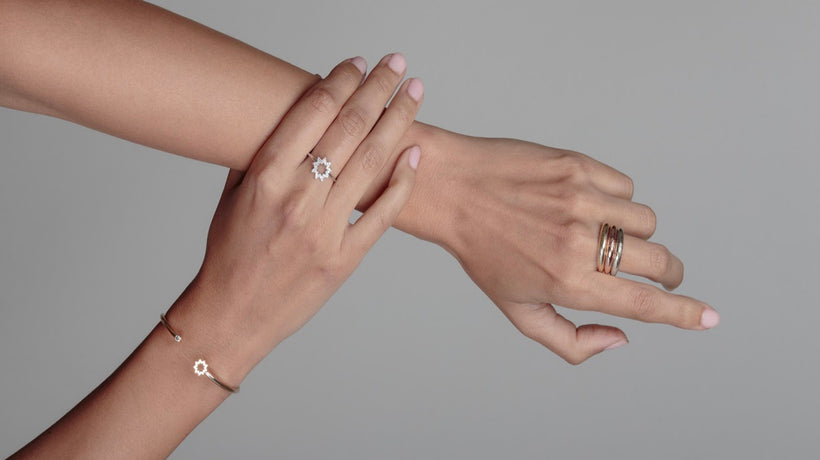 How To Care for 14k Gold Jewelry (No Extra Tools or Special Solutions Required)
At One Thousand Years Jewelry, we use 14k gold in yellow, white and rose colors for their modern beauty and exceptional durability. 14k gold is harder and more resistant to scratches and dents. That being said, it is still important to care for your 14k gold jewelry to ensure that it will remain lustrous and beautiful when you wear it. 
A few things to keep in mind while wearing your gold jewelry:
Chlorine can cause damage to your gold. When getting in a pool or hot tub, remember that repeated exposure can cause structural damage to your gold and may eventually lead to breakage
Remove your jewelry before exposure to household cleaners or any type of abrasive surface (including sand, dirt, velcro, etc.). Many household cleaners contain chemicals that can etch or dull the surface of your 14k gold jewelry.
Remove your jewelry before taking a shower or bath. Your cleansers will leave a film of residue on your jewelry and dull its luster.
Put your jewelry on last. Lotions, makeup and perfume can leave residue on your jewelry or possibly cause damage to your gold.
So how do you care for your 14k gold jewelry?
Soak your jewelry in warm water and mild soap solution for a few hours, then brush lightly with a very soft toothbrush. Always remember to close your drain when you're rinsing at the sink!
Use rubbing alcohol and a q-tip to sanitize any pieces that get touched more often. Sanitizing your jewelry will brighten it, but just be sure to stay away from bleach as it can damage your gold.
Remember that if you have 14k white gold jewelry, it is most likely rhodium plated. Rhodium plating is done to give your white gold jewelry an extra shine and will need to be renewed over time. In between plating, you can use an ultrasonic cleaner to gently remove the dirt and grime rather than a soft brush.
When you're done with cleaning, use a hair dryer if you have one handy to dry your jewelry thoroughly. The last step is to use a polishing cloth to give it a little extra sparkle. If you have a piece that has a large surface area, like One Thousand Years Jewelry's Breaking Dawn Pendant, you will want to polish it to remove any fingerprints or bits of lint that may have adhered to it in the process.
Storage is important! When you're not wearing your fine jewelry, you should be sure that each piece is stored separately and is surrounded by a soft cloth - like microfiber. Each of One Thousand Years Jewelry pieces is stored and shipped in a box with a velvet-like interior surface to ensure maximum shine and minimize any possibilities of scratching or dulling.
Lastly, depending on wear, you should schedule a professional cleaning about once a year. An experienced jeweler will clean your ring with an ultrasonic cleaner and steam and even polish or rhodium plate your white gold.
With proper care and maintenance, your fine jewelry will outlast you and be passed down for generations.